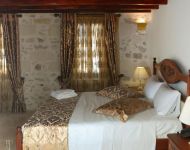 According to Hesiod, Calliope was the eldest and noblest of the 9 Muses.

Patron of epic poetry and eloquence, and all of the arts.

Bards relied on her to help them get inspiration. The Homeric epics begin with a invocation to her.

Although for some she was a virgin, Calliope is reported by others as the mother of Iolemos, by Apollo or Orpheus or Linus, Ymenaios and Komatheontas.

Many were those who thought Homer was her son as well. Most images of Calliope depict her with a laurel or gold wreath, holding either a scroll or a writing tablet and stylus and often with the Homeric Epics at her feet.

This image with the writing tablet and stylus later inspired the depiction of "Glory of Psara" in the war of 1821, and also many painters' representations of angels during the Judgement Day.

Suite Calliope is 30 m2 and can accommodate 2 persons in a king size bed.

During the occupation of the house by Joseph Chobiti's family it was part of the store room.

It is located on the first floor and from the windows one can see the paved street of St. Barbara, a traditional alley of the Old Town, where is the church of St. Barbara, patron saint of the town of Rethymnon, the public library and the Cathedral.

The main features of the suite are the stone and wood. The wood ceiling and stone walls give the impression of a Turkish room.

In the spacious bathroom there is an easy to use, shell-shaped whirlpool bathtub to provide relaxation and wellness.